Blue1
www.blue1.com

This section contains information related to Blue1, flight code KF, a low-cost carrier full-service type.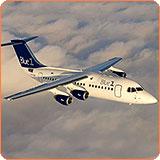 Blue1 started out as Air Botnia in 1988. The company's main routes were on the Finnish market to/from Helsinki. In the year 1998 the company became a fully owned subsidiary to Scandinavian Airlines System. In 1999 a decision was made to change the airline's strategy, and so the network basically was to cover the SAS Group Scandinavian hubs Oslo, Stockholm and Copenhagen. Later that year, all flights entered a code share agreement. The aim was to offer direct international flights. Blue1 and SAS united their organizations in March 2000. In the year 2004 Air Botnia became Blue1. In 2004 they joined Star Alliance and opened the first domestic flights from Helsinki to Oulu and Kuopio. Blue1 continues its expansion program in March 2006. The amount of destinations will grow from 14 to 25. Blue1 will focus heavily on Europe with daily connections to such destinations as London and Warsaw and with flights to tourist destinations in southern Europe such as Athens and Rome.
Click to view the original company history

in a new window.
General
Av. seats
1.287
Tot. seats
48.922
Av. frequency
19
Tot. frequency
706
Tot. airports
14
Tot. routes
38
Av. distance
615
Av. time
77
Indexes
Beta-index
β 2,71
Theta-index
θ 3.494
Eta(t)-index
η 89
Eta(x)-index
η 751
HHI
0,56
Gini
0,57
Flights per 60 minutes
16,04

Top 5 regions (based on seats)
Finland
60,20 % (29.450)
Sweden
20,14 % (9.854)
Denmark
12,63 % (6.181)
Norway
3,63 % (1.778)
Germany
2,75 % (1.343)
Top 5 airports (based on seats)
HEL-Helsinki
32,73 % (16.014)
ARN-Stockholm (Arlanda)
18,61 % (9.102)
CPH-Copenhagen (Int.)
12,63 % (6.181)
OUL-Oulu
8,04 % (3.934)
TKU-Turku
6,54 % (3.199)
Airport hierarchy
Primary
13,28 % (6.497)
Secondary
55,94 % (27.368)
Tertiary
30,78 % (15.057)
Click to open the original European Travel Market

site in a new window, featuring more indepth information related to their organisation.
Organisation chart
SAS Scandinavian Airline System
100 ->
Blue1
*
Member of Star Alliance
Click to browse to the network development section of this site, featuring more more information on the network development of Blue1.
Network 2005-09