Flyglobespan
www.flyglobespan.com

This section contains information related to Flyglobespan, flight code B4, a low-cost carrier original type.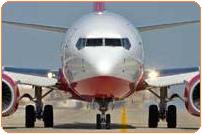 "Flyglobespan is a wholly owned subsidiary of The Globespan Group Plc a company established in 1974. The airline commenced its first flight in April 2002 and now operates 11 aircraft to a wide range of destinations within Europe and the USA. Bases are located in Edinburgh and Glasgow and a new base at London Stansted commenced operation in early November 2005. Flyglobespan has a young fleet of modern aircraft, recent additions being the Boeing 737-800ís which commenced service in April 2005. A wide bodied Boeing 767-300 with 3 classes of service is the very latest addition to the fleet, for the purpose to operate on long haul destinations, including the USA. Flyglobespan was the first UK airline to install winglets to the wings of its 737-800's enabling a faster rate of climb and resulting in greater fuel efficiency. New and nearly-new aircraft offer many advantages. It enables Flyglobespan to save on operating costs and increase competitiveness, as well as making an effective contribution to environmental protection."
Click to view the company history

in a new window.
General
Av. seats
894
Tot. seats
33.972
Av. frequency
6
Tot. frequency
228
Tot. airports
13
Tot. routes
38
Av. distance
1.692
Av. time
170
Indexes
Beta-index
β 2,92
Theta-index
θ 2.613
Eta(t)-index
η 186,08
Eta(x)-index
η 1.898,16
HHI
0,23
Gini
0,49
Flights per 60 minutes
2,48

Top 5 regions (based on seats)
United Kingdom
60,53 % (20.562)
Spain & canary Isl.
28,07 % (9.536)
Czech Republic
6,14 % (2.086)
Portugal
3,95 % (1.341)
France
1,32 % (447)
Top 5 airports (based on seats)
GLA-Glasgow (Int.)
29,39 % (9.983)
EDI-Edinburg
20,61 % (7.003)
STN-London (Stansted)
10,53 % (3.576)
AGP-Malaga
6,14 % (2.086)
PMI-Palma Mallorca
6,14 % (2.086)
Airport hierarchy
Primary
0,00 % (0)
Secondary
62,72 % (21.307)
Tertiary
37,28 % (12.665)
Flyglobespan is a 100 percent subsidiary of the 'Globespan Group Plc'.
Click to browse to the network development section of this site, featuring more more information on the network development of Flyglobespan.
Network 2005-09