FlyMe
www.flyme.com

This section contains information related to FlyMe, flight code SH, a low-cost carrier original type.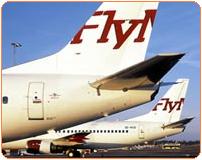 "FlyMe is Swedens low-cost carrier. They offer direct flights between Gothenburg and twelwe major European cities and vacation resorts. In addition to this, with Stockholm as its hub, FlyMe flies to Gothenburg and Malmö. Their goals are to have a good schedule and simple, rebookable tickets at lower prices than what our passengers are accustomed to. FlyMe operates flights since March 2004. They fly on the regularly scheduled routes Stockholm/Arlanda - Göteborg/Landvetter and Stockholm/Arlanda - Malmö/Sturup. On March 30, 2006, FlyMe started direct flights from Göteborg/Landvetter to 11 attractive destinations in Europe. The destinations are London/Stansted, Paris/Beauvais, Nice/Cote d'Azur, Amsterdam/Schiphol, Rome, Prague, Malaga, Alicante, Palma de Majorca, Rhodes and Crete/Chania. At June 4, 2006 FlyMe started the direct route Göteborg - Barcelona. FlyMe consists of Fly Me Europe AB, its B-shares are quoted on the Stockholm Stock Exchange's Nya Marknaden (New Market), and the fully owned subsidiary FlyMe Sweden AB, which conducts all operational activities."
Click to view the company history

in a new window.
General
Av. seats
1.988
Tot. seats
13.916
Av. frequency
14
Tot. frequency
98
Tot. airports
5
Tot. routes
7
Av. distance
451
Av. time
62
Indexes
Beta-index
β 1,4
Theta-index
θ 2.783
Eta(t)-index
η 60,71
Eta(x)-index
η 441,86
HHI
0,45
Gini
0,35
Flights per 60 minutes
13,60

Top 5 regions (based on seats)
Sweden
83,67 % (11.644)
Finland
16,33 % (2.272)
---
-----
---
-----
---
-----
Top 5 airports (based on seats)
MMX-Malmo (Sturup)
36,73 % (5.112)
ARN-Stockholm (Arlanda)
31,63 % (4.402)
HEL-Helsinki
16,33 % (2.272)
GOT-Gothenburg
13,27 % (1.846)
AGH-Angelholm/Heisingborg
2,04 % (284)
Airport hierarchy
Primary
0,00 % (0)
Secondary
47,96 % (6.674)
Tertiary
52,04 % (7.242)
FlyMe Sweden is fully owned by FlyMe Europe.
Click to browse to the network development section of this site, featuring more more information on the network development of FlyMe.
Network 2005-09