Theoretical framework
Network characteristics
This research investigates the spatial development of the low-cost carrier network. This part covers characteristics which can be used to describe the network development. As explained in the graphs section, a network consists of links and nodes. In case of an aviation network there will be an emphasis on the nodes, which will to a large extent define the final structure of the network. Therefore we will distinguish between the site (the location of a node) and the situation (the context of a node). Figure 9 gives an overview of the relation between a link, site and situation. The location of the nodes and how the links connect to the nodes define the final network structure. In this case the aviation routes of low-cost carriers are represented by links and the airport locations are represented by nodes. Next it is also important to look at the different actors, the low-cost carriers themselves, which will operate inside the networks. One can expect different types of low-cost carriers will undergo different network developments.
Figure 9, links-site-situation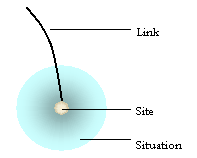 This part will first look at the structure of the links and their characteristics. What are the characteristics of the low-cost carrier network? What kind of network developments can be expected based on existing literature? Next the airports themselves, the nodes, will be discussed in relation to the network development (click on a link below to jump to the related subject).
In previous parts some differences between low-cost and full-service carriers have been described. Table 2 gives an overview of relevant characteristics that can potentionaly influence the route structure. One important difference between low-cost and full-service carriers which has already been mentioned is the difference between a point-to-point and hub-and-spoke network, the chosen operating network will have consequences on the spatial network morphology. Cox (2004) uses four network characteristics to describe the spatial network, these are: directness, density, connectivity, and hierarchy. Other characteristics relate to the geographical direction of a network, and the network development, which represents the dynamical dimension of low-cost carrier networks. These characteristics will all be commented below, in another part the characteristics will be operationalized.
Table 2, links-characteristics of low-cost carrier route structure
Point-to-point (morphology)
Distance
Density
Connectivity
Hierarchy
Geographical direction
Network development
Source: Cox (2000), Williams (2001)
Perhaps the most important characteristic of low-cost carriers is that they operate according to a point-to-point network. Because they don't operate according to a hub-and-spoke network they reduce complexity costs, which results partly in cheaper tickets. Figure 10 represent an abstract visualization of a hub-and-spoke and point-to-point network. This figure clarifies the way full-service carriers operates according to a hub-and-spoke network and generate economies of scope. The airport couples (luha a-b, c-d, and e-f) are connected through a hub (hub I). A total of 6 air routes, or links, are needed which will create 6 direct connections with the hub, and 15 indirect connections through the hub with another airport. Theoretical there are no indirect connections through a hub in a point-to-point network. To connect all the airports in a point-to-point network a total of 15 links are needed, 7 more then in a hub-and-spoke network. If for example hub-I would be connected with a second hub (hub-II), which would be connected to another 6 airports, a total of 78 airport couples will be created. Different spokes can create a larger reach of the network, collecting passengers on a hub, and feeding international and intercontinental flights which can operate at relatively low costs and at a higher frequency. In literature these spoke flights are often called feeder-flights. An important disadvantage of a hub-and-spoke network compared to a point-to-point network are the complexity costs related to this first network. These extra costs arise for example when passengers need to transfer from one to the other plane, which will generate extra reservation costs and costs related to luggage transshipment.
Figure 10, Point-to-point network
Hub-and-spoke network
Source: Cox (2000)
As mentioned before, low-cost carriers can save on complexity costs by operating according to a point-to-point network instead of a hub-and-spoke network. A point-to-point network consists of direct flights between origin and destinations. Important disadvantages of this type of network are the shorter range of the network, they can serve fewer destinations with the same air routes compared to a hub-and-spoke network. It is also unprofitable to operate intercontinental flights.
Examples of carriers who operate according to a hub-and-spoke and point-to-point network are respectively former KLM and Ryanair. The figure below gives an overview of their networks, showing all direct, European flights. The map of KLM shows a clear hub-and-spoke network. Schiphol Airport (Amsterdam) is the hub, from which spokes originate and connect the other European destinations with the hub. At the hub passengers can transfer from continental to intercontinental flights and the other way around (symbolized by the two arrows). Ryanair operates according to a point-to-point network. Their network consist of only direct flights, with no transfer options. They also don't offer intercontinental flights. The structure of the point-to-point network differs clearly from the hub-and-spoke structure of KLM.
Figure 11, KLM - European flights (direct)
Ryanair - European flights (direct)
Both maps show direct flights in Europe. The two arrows symbolize intercontinental flights of KLM
Source: OAG (2005)
Cox (2000) talks in relation to the distance characteristic about the directness. This is the difference between the straight line distance between two nodes in a network, and the real distance over the network between these two points. This is an important difference between the hub-and-spoke network of full-service carriers, and the point-to-point network of low-cost carriers. In the first case one will fly over a hub which could cause a detour. The effective distance will be larger then the straight line distance. In case of a low-cost carrier the effective distance of a point-to-point network will be close to the straight line distance. When low-cost carrier with only point-to-point flights are compared to each other this characteristic will be less important. In graph theory this phenomenon will be called 'circuiting' (see also the graph section).
Next to the difference between the straight line distance and the effective distance of the low-cost carrier network, the value of the distance itself is also an important characteristic of the network structure. This is especially important when low-cost carriers are compared to one another. Compared to full-service carriers, low-cost carriers will only fly short-haul, full-service carriers will also fly intercontinental on long-haul flights. According to Williams (2001) the average flight duration will also differ on European level. In Europe the average flight duration of full-service carrier will amount about 3,5 hours, in case of low-cost carriers this will be between 2 to 2,5 hours (Williams, 2001).
The density of the low-cost carrier network is related to the capacity of the airplane. The capacity of an airplane, which relates to the airplane type, can be defined in the total available seats. A larger number of available seats relates to larger numbers of passengers per flight
When talking about frequency in this research, the actual flight frequency is ment. Low-cost carriers try to be on the ground as short as possible and they try to obtain short turn-around times. This can result in a higher flight frequency. Another characteristic, which can influence the frequency, is the total distance of the flight. Flight frequency is measured for each route, longer routes relate to a lower frequency.
The connectivity of a network is the amount of routes that connect two airports to each other. The more airports are connected with each other, the higher the connectivity.
There can also be a hierarchical structure of different routes in a network. Routes could differ in quality of each other. When routes transport large numbers of passenger they could be higher in the hierarchy compared to routes which transport a small number of passengers. These 'higher routes' can be relatively more important compared to 'lower routes'.
In this research geographical direction is also identified as a characteristic of the spatial low-cost carrier network. The different networks appear to have a clear direction. Figure 12 shows the networks of two former charters who currently operate as a low-cost carrier. Both networks look similar and have a north-south direction. Later on an attempt will be made to operationalize this characteristic.
Figure 12, Air Berlin
Condor Flugdienst
Both maps show the network of September, 2005
Source: OAG (2005)
A network is not static but dynamic, over time networks will develop. Networks can expand by creating new routes, and unprofitable routes can be discarded. The network development can consist of four stages which as explained in the previous graph section.
Another characteristic of low-cost carrier network development is competition. Low-cost carriers can compete with other low-cost carriers or with full-service carriers. Competition could take place on certain flight routes, or airports. This part will look on competition related to flight routes.
When asked to which extent competition can occur different answers can be found in literature. On one side low-cost carriers could avoid competition (Gillen, 2004), on the other side it seems they do compete with one another. From a research of Windle (1999) on competition between low-cost and full-service carriers it appeared they do compete with each other on certain routes. On direct and indirect flight routes with competition full-service carriers lowered their ticket prices to compete with low-cost carriers. Although one could expect the ticket prices would increase on other routes for compensation, this did not happen.
As a reaction on the arrival of low-cost carrier on the European aviation market, full-service carriers need to adjust their strategies. Competition is a possible strategy to fight with the low-cost carriers. Some airline companies started their own low-cost carriers. For example KLM started Transavia which operates as a low-cost carrier. Another, more aggressive strategy is the case when full-service carriers create a temporal low-cost carrier, which aims to compete heavily with a low-cost carrier and tries to push the low-cost carrier from the competing routes. Once the later is gone, the temporal low-cost carrier will be raised and the monopoly will be contained. Examples of companies who tried this strategy are KLM with BuzzAway and British Airways with GoFly (European Travel Network, 2005).
Competition can be included as a characteristic by looking at routes with multiple low-cost and full-service carriers, and direct and indirect flights.
In the previous section characteristics of the routes, or links, have been discussed. Besides the links, a network also consists of point location, or the nodes. In this section the characteristics of these nodes, the airports, will be discussed. The characteristics will be divided into direct characteristics of the nodes, the site-characteristics, and indirect characteristics of the context of the nodes, the situation-characteristics.
Burghouwt (2005) gives an overview of different site- and situation-characteristics related to airports. Warnock-Smith (2005) held interviews among different low-cost carriers in which they where asked to give describe the most important factors related to airport choice. Table 3 is based on these sources and gives an overview of relevant selected characteristics related to airports in low-cost carrier networks. The characteristics will be commented below.
Table 3, Characteristics of low-cost carrier airports
Site-characteristics
Situation-characteristics
Turn-around time
Available potential market
Capacity
Population
Future expanding
GDP
Different taxes
Tourists
Airport facilities
Geographical location
Density
Landside accessibility
Connectivity
Hierarchy
Source: Burghouwt (2005), Warnock-Smith (2005), edited by author
The turn-around time influences the number of flights that can be realized within a certain time period. With short turn-around times more time can be spend 'in the air' which facilitates more flight movements per period. Short turn-around times and their potential to generate more profit is an important characteristic of the low-cost carrier model. Turn-around times is influenced by factors like taxi time, duration of check-in, and efficiency of ground resolvement.
There has to be enough capacity at the airport to facilitate a low-cost carrier. There should also be enough capacity for future expansion to facilitate the growth of the carrier. The airport should be large enough to handle the air traffic, and congestion has to be avoided.
Different airport taxes has to be as low as possible, related to the cost reducing character of the low-cost carrier model.
The facilities should be aimed at low-cost carriers. Low-cost carrier need facilities like catering and stores. For example a business class lounge would not be needed for typical low-cost carriers.
Another characteristic of airports is density. This can be the concentration of low-cost carriers and full-service carriers, which fly on a certain airport. For example smaller regional airports could be dedicated to low-cost carrier only, other airports could also facilitate other carriers.
The amount of connectedness relates to the connectivity of an airport. Typical for hub-and-spoke networks is a high connectivity at the hub airports and a low connectivity at the other airports. This is not necessarily the case for point-to-point networks.
A final characteristic of airports is the hierarchy. Related to their size, airports can be divided into different classes. Figure 13 gives an overview of airports divided into primary, secondary, and tertiary classes in Europe.
The availability of a potential market in a region is a situation-characteristic. Three factors have been selected: the population density, the gross domestic product (GDP), and the number of tourists. Figure 14 gives an overview of the number of tourist in Europe. One expects when more of these positive factors are present the potential market of low-cost carriers traffic would increase. In case of the number of tourists one expects regions around the Mediterranean Sea offer more potential compared to other areas. Although low-cost carriers do have a market generating effect, a relevant market area around airports is still necessary. With the arrival of a low-cost carrier more passengers will fly who would not normally fly because of the ticket prizes
The geographical location is another important characteristic of airports. The location of the airport could be on an isolated island, or in the middle of Western Europe. Also the distance to other airports close by can be taken into account. A large hub airport can be located relatively close which for example is the case with Rotterdam and Amsterdam – Schiphol. If smaller airtports are located close by, 'first-mover' benefits could be created for low-cost carriers. For example when a low-cost carrier will be the first carrier, which plans start operating in a certain region, she will have the possibility to choose among different airports. The carrier can move to a second airport if the first airport wouldn't comply to certain demands of the carrier (Francis, 2005).
Another characteristic is the landside accessibility. This will be to what extent airports are connected by landside infrastructure. This could be for example a high speed train connection at the airport. Passengers are also more willingly to travel larger distances to fly with a low-cost carrier, which expands the market area of an airport (Gillen, 2004).
The previous section already discussed how competition can take place on flight routes. Competition can also take place at airports and airport regions.
At the European aviation market it appears competition moves from hub airports to regional airports on which low-cost carriers fly (Frenken et al, 2003). Also one of the reasons why KLM's position decreased in Europe was the increasing competition with low-cost carriers on routes to Stansted and Belfast (Dennis, 2005). Due to current developments which indicate the low-cost carrier market will saturate, more competition can be expected between larger and smaller low-cost carriers. A research of Warnock-Smith (2005) concluded some larger low-cost carriers find it an advantage if they can compete on airports with smaller low-cost carriers.
When a low-cost carrier is the first which will fly on a certain region which contains multiple airports, it can make use of the competition between these airports and choose the airport which fulfills most needs of the carrier. An example of the possible power of a low-cost carrier is the Ryanair and Rimini case. Ryanair flew many tourists into Rimini which boosted the tourist economy of Rimini. The airport authorities wouldn't acknowledge this, and Ryanair decided to remove its operations from the airport to the airport of Ancona, which lies one hour further from Rimini (Gillen, 2004). This would probably not have been the case if there weren't any other alternative airports in the region. The Ryanair and Rimini is also an example of the possible benefits for an airport and its surrounding area, which can be created if a low-cost carrier flies into a certain area. In this case the tourist sector boosted due to the expanded flow of tourist to the area. The region also benefits of extra tax revenue. There are also examples in the past of airports which where disadvantaged by the arrival of a low-cost carrier. This could be the case when airport taxes where lowered too much to fulfill to the low-cost carriers demand, or when full-service carriers removed demonstratively their services to another airport (Francis, 2003).